The Data Journalism Handbook in English was born as a result of an intense 48 hour collaboration that included dozens of people at the 2011 Mozilla Festival. The work continued as the Handbook was updated, revised, and expanded. On January 30th, the Portuguese version was launched online, at datajournalismhandbook.org/pt/.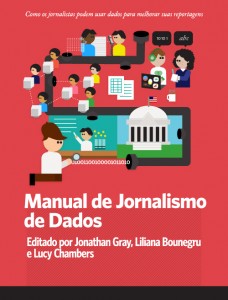 The new version was coordinated by Brazilian journalist of Tiago Mali  and contributions by 26 volunteers including Claudio Weber Abramo, Alberto Cairo, Marcelo Träsel, José Roberto de Toledo, and ((0))eco Lab's very own Gustavo Faleiros.
He wrote the chapter on Infoamazonia.org to describe the history of the site's concept, and present its use of geojournalism concept to present a more complete picture of the environmental conditions of the Amazon Rainforest. Infoamazonia.org is one of the case studies that was added specifically for a Brazilian audience.
The original Data Journalism Handbook was published by O´Reilly Media under the initiative of the European Journalism Centre with the Open Knowledge Foundation. With the contribution of  the Lab, Abraji (Associação Brasileira de Jornalismo Investigativo) published the Portuguese translation.
This version of the handbook allows Portuguese speakers access to the content about international uses of data journalism, with special additions pertinent to Brazil and the whole Portuguese-speaking world, as well as the complete guide on how to collect, understand, and create stories with data.